About The Trauma Informed Care Project
Trauma Informed Care (TIC) is an organizational structure and treatment framework that involves understanding, recognizing, and responding to the effects of all types of trauma. It emphasizes physical, psychological and emotional safety for both consumers and providers, and helps survivors rebuild a sense of control and empowerment.
The Trauma Informed Care Project (TIC) of Orchard Place/Child Guidance Center is funded by a grant from the Iowa Department of Human Services Federal Block grant monies. Orchard Place/Child Guidance Center applied for the TIC grant and it was awarded and started Oct. 1, 2010.
The goal of the Trauma Informed Care Project is two-fold:
First to educate the larger System, which delivers services or has some piece of a family's case, about Trauma and how it may impact the system and/or affect the family. The intent is to examine policies, practices and organizational structures to help prevent re-traumatization of our clients of our staff and our system at large. One of the first steps was to establish a Stakeholders group of community members to help determine the needs of the community/system, to help plan what type of trainings are needed and what parts of the system need to be addressed. This group meets quarterly with working subcommittees which meet monthly to carry out the strategic plan.
Second, to educate and train practitioners in evidenced based trauma informed services so that our consumers/community/system can have available resources to send trauma survivors to receive services. It is our goal to try to provide an annual conference bringing national speakers on Trauma to Central Iowa. The Annual Psychological Trauma & Juvenile Justices conference has hosted such speakers as Dr. Robert Anda, Dr. Sandra Bloom, Dr. Robert Macy, Dr. Neil Boris, Tonier Cain, Eduardo Duran PhD and Dr. Bruce D. Perry. The project has provided specific trainings for therapist, for educators and for foster families which have been directed more specifically to their piece of the system and enhance services. We would also like to look at how to make sure that these practitioners have access to some consultation to ensure fidelity to these evidenced based trauma informed service models.

About The Coordinator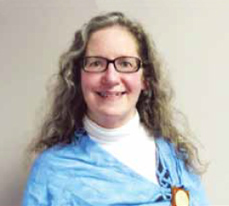 Gladys Noll Alvarez, LISW has worked at the Orchard Place Child Guidance Center since 1985 when she received her Master's in Social Work from the University of Iowa. She began her career working with youth and families at risk in 1976 when she was a counselor with the Upward Bound program at Coe College. She has worked with victims of sexual abuse in individual, family and group therapy and is the co-founder of the Young Children's Sexual Abuse Treatment Group at the Child Guidance Center. She is the recipient of the Al Shutlte Award in 2000, the Voices for Children Award in 2008 and the Michelle A. Moore Award in 2012.
In her current role as the Trauma Informed Care Project Coordinator, Ms. Alvarez works to educate the larger system on the importance of changing the question from "What's wrong with you?" to "What happened to you?". She coordinates the work of the Trauma Informed Care Stakeholders group and provides in-service trainings to Orchard Place and the community while still maintaining an active case load of trauma clients.
Contact